When it comes to your wedding, you get to have it whichever way works for you. Sometimes families or friends might have expectations that may not be in alignment with your vision.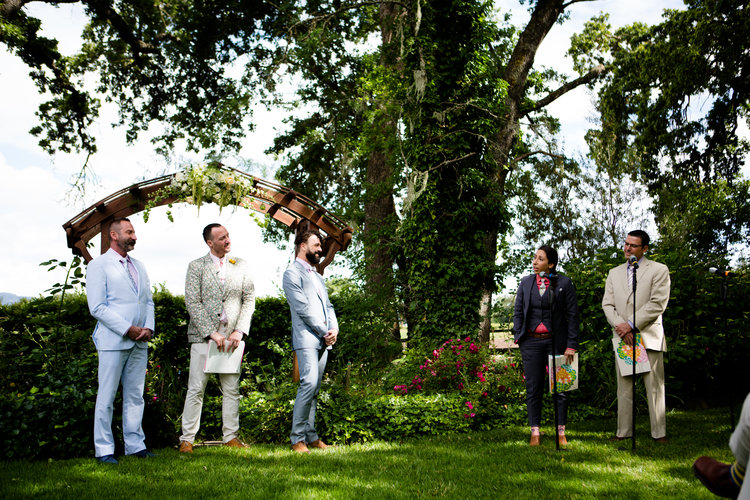 Think of an alternative that may work if you have too many that would be crushed if not asked to stand up with you at the altar.
Here are some ways to include family and friends in your wedding ceremony:
Ask a family member or friend to be your officiant: If you have someone close to you who is ordained or has experience in public speaking, ask them to officiate your wedding. It will add a personal touch to your ceremony and make it even more meaningful.

Have family and friends participate in readings: Choose a special reading or poem and ask a family member or friend to read it during the ceremony. It can be a meaningful way to involve them in your special day and create a memorable moment.

Include family and friends in the processional: If you have a large wedding party or want to include more people in your ceremony, consider having family members and close friends walk down the aisle with you. This can include parents, grandparents, siblings, or even close friends.

Have family and friends light candles or pour sand: A unity ceremony can be a beautiful way to involve family and friends. Have them light candles or pour sand into a unity vase, symbolizing the blending of two families into one.

Have family and friends hold your wedding rings: Instead of having a traditional ring bearer, ask family members or close friends to hold your wedding rings during the ceremony. It will make them feel special and involved in your wedding day.

Include family and friends in a group photo: After the ceremony, take a group photo with your family and friends. It will be a special memory for you and a way to include them in your wedding day festivities.


Too many kids? Grouping children as they walk up the aisle helps them support each other and give the extra little ones a hand to hold onto. They can be paired up or walk in a cluster based on category. Like all the flower girls walk together....jr bridesmaids together...ring bearers.
Remember that children like to follow the leader so have about 5 ft per pair or group.

If you are interested in wedding planning by the hour, click here to learn more!